The annual Young Automotive Group and Young Caring for Our Young Trunk or Treats are back!
Our dealerships are partnering with Young Caring for Our Young to give over $35,000 to kids in need! Bring your friends and family to these FREE family friendly events and have a great time celebrating the spooky season! Each event is going to have games, food, coloring contests, and tons of fun costumes!
Make sure you stop by one of the participating locations below and wear your favorite Halloween costume!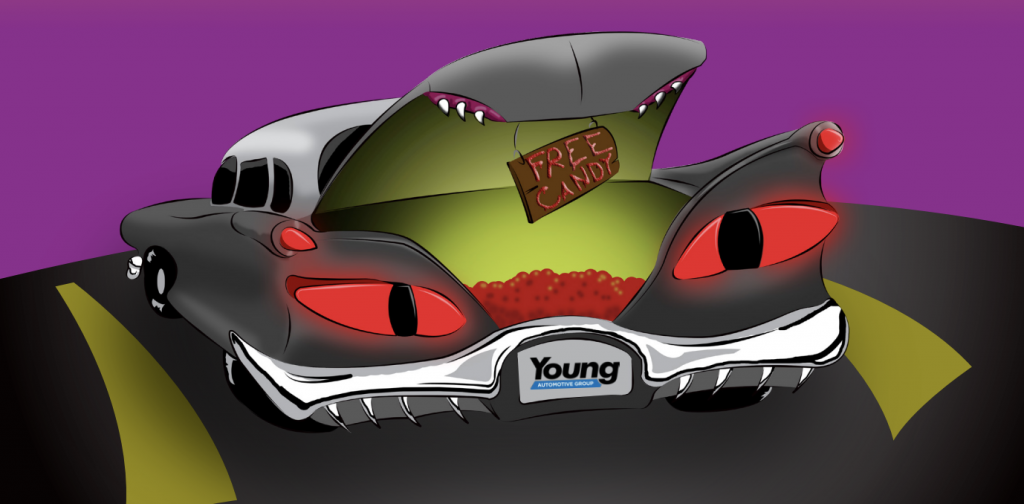 Young Ford Brigham City – Saturday, October 22, 2022 from 11AM – 2PM
Location: Young Ford Brigham (323 S. Main St. Brigham City, UT 84302)
Young Powersports Pleasant View– Saturday, October 22, 2022 from 1PM – 3PM
Location: Young Powersports Pleasant View (2529 N, US-89, Ogden, UT 84404)
Layton Trunk Or Treat – Saturday, October 29, 2022 from 10AM – 1PM
Dealerships: Young Chevrolet, Young Powersports Layton
Location: Young Chevrolet (645 N Main Street Layton, UT 84041)
Morgan Trunk Or Treat – Saturday, October 29, 2022 from 11AM – 3PM
Dealerships: Young Chrysler Jeep Dodge Ram Morgan, Young Ford Morgan, and Young Powersports Morgan
Location: Young CJDR Morgan and Young Ford Morgan
Logan Trunk Or Treat – Saturday, October 29, 2022 from 6PM – 8PM
Dealerships: Young Honda, Young Toyota, Young Powersports Logan, Young Truck and Trailer Logan
Location: Young Honda and Young Toyota
Burley Trunk Or Treat – Saturday, October 29, 2022 from 6PM – 8PM
Dealerships: Young Chrysler Jeep Dodge Ram Fiat Burley, Young Buick GMC Burley, Young Powersports Burley
Location: Young CJDR Burley, Young Buick GMC Burley, and Young Powersports Burley