When: August 13, 2021, 6:30 AM – 11:00 AM
Where: Walmart – 385 N. Overland Blvd.  Burley ID
Contact: Sue Pehrson
Contact Email: spehrson@youngautoidaho.com
Contact Phone: 208-678-1234
Event Sponsors: Young Automotive Group and Young Caring for Our Young
Beneficiary: Children from Cassia and Minidoka County Schools
Area Served: Cassia and Minidoka Counties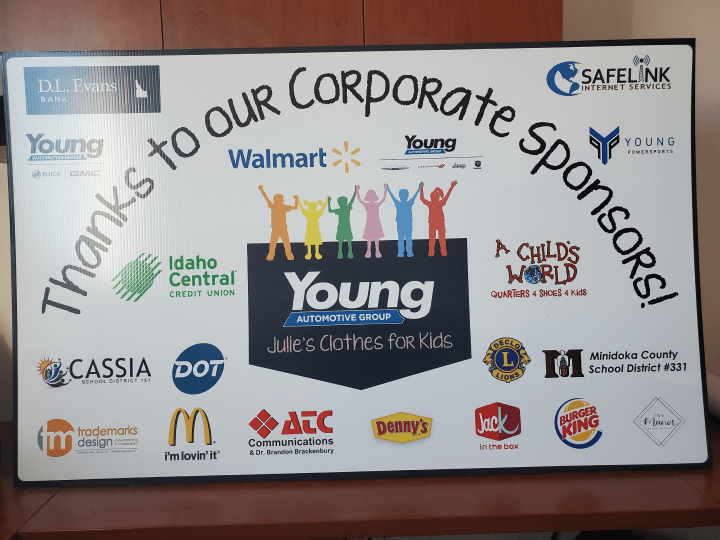 Every child deserves a great start!
Starting a new school year can be full of both excitement and fear. For hundreds of children in Minidoka and Cassia School Districts, the possibility of shoes, underwear, socks and a pair of pants may not be in their future. However, you can change the life of a child and provide the assistance they need to start their school year off right!
Children are nominated to participate in Julie's Clothes for Kids, because their families don't have the resources to provide basic essentials to start school: shoes, clothing and a backpack. They are able to shop with a volunteer and receive essential clothing needed for school.
This shopping event is about the community coming together and tending to the needs of families in the Mini-Cassia area. While you may never know the entire scope of your influence, we know your efforts will have a large and far reaching impact on a child's future. We appreciate your support, and we look forward to your continued involvement.
Sign Up to Volunteer Here
Thank you for your interest in volunteering. This event is now full, and we are no longer able to accept more volunteers.
Julie's Clothes for Kids is a yearly event. If you would like to join us next year, please check back here for future volunteer opportunities.
We will be clothing kids from pre-K to 8th Grade
Choose "Julie's Clothes for Kids" from the drop down OR call Sue Pehrson at 208-678-1234