When: August 5, 2022
Time: Volunteers can sign up to start shopping at 6:30 am, 7:30 am or 8:30 am.
Where: It will be held at 3 Different Kohls simultaneously in Layton, Centerville and Clinton
Contact: Tami Olsen
Contact Email: thinkcaring@youngcaring.org
Contact Phone: (801) 725-2662
Beneficiary: Davis County School District Students
Area Served: Davis County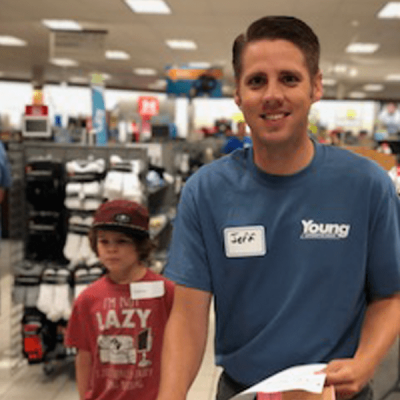 Every Child Deserves a Great Start
Children are nominated to participate in the Davis Education Child Spree Event, because their families don't have the resources to provide basis essentials to start school: shoes, clothing and a backpack. We invite you to volunteer to shop on behalf of a child, and truly make a difference. Your time and money, if you choose to donate, can help prepare them for success this school year.
We will send you a video of the child you are shopping for so you know a bit more about them, and you'll be given a list of their sizes, favorite colors, etc.
Past Event

People can donate in advance if they want to via this link: Click here to donate
Thanks to all of our wonderful employees and families who participated in the Davis Education Foundation Child Spree today! We had nearly 75 YAG volunteers participate between the 3 Kohls locations, and over 375 children were served. We just love being a part of this event! Because of the hard work and dedication on the part of the Davis Education Foundation team, the Davis School District leadership and wonderful employees, and their amazing partners and tons of volunteers, 375+ kiddos will be starting the school year with new clothes, backpacks and school supplies as a result. This is an amazing community that truly cares for each other.